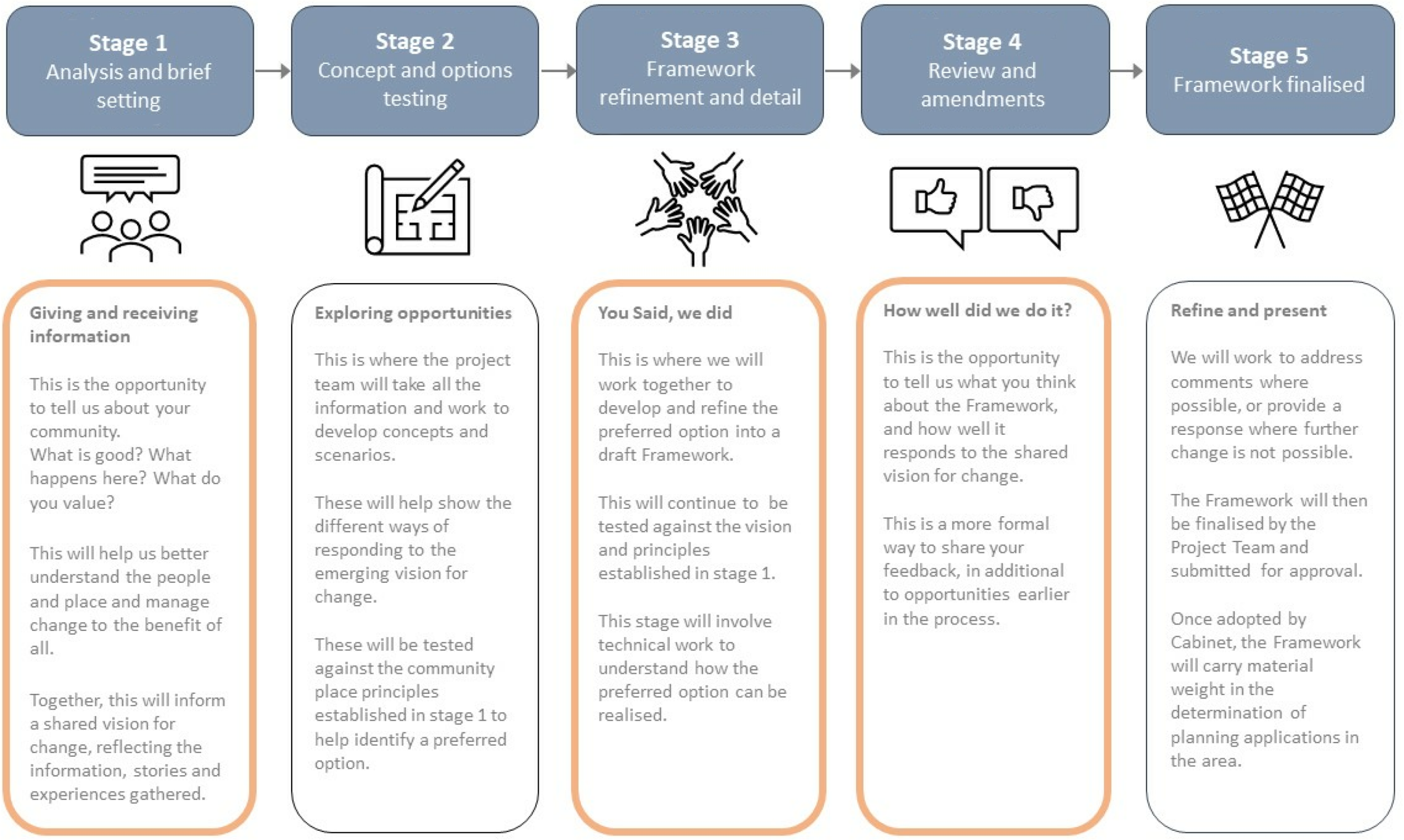 Early engagement 2019-2020
In 2019, Bristol City Council started a conversation with people living and working close to Frome Gateway to better understand the regeneration area and hear about local aspirations for the future. This was distilled in a set of 'Community Place Principles' to guide the project. You can find out more details about our initial engagement by reading the early engagement report.
As a result of the COVID-19 pandemic, work on the Frome Gateway project was paused in March 2020 and was not recommend until January 2022.


Regeneration Framework Stage 1: Site analysis; understanding the opportunities and challenges - Feb 2022 — June 2022
We have now completed Stage 1 of the project. Work undertaken in Stage 1 included:
Community and stakeholder engagement activities
In-person and online community and stakeholder engagement activities to re-test and refine the Community Place Principles, and help us to define what the opportunities and constraints for the site are. More information on these can be viewed on the

Community Place Principles page

.
The launch of a business survey to help us better understand the needs and aspirations of existing businesses on the site.

If you are a business within the Frome Gateway area, and haven't yet spoken with our Economic Development, please get in touch so we can organise a 1-1 conversation.
Efforts to collect the contact details for landowners within the Frome Gateway, and landowner engagement sessions to build our understanding of what's going on across the site. If you're a landowner in the Frome Gateway area, and haven't spoken with our team, please get in touch so we can arrange next steps.
Design and technical activities:
Site analysis work to understand what the opportunities and constraints are for regeneration of Frome Gateway (from a design and technical perspective). This included urban design analysis, and technical assessments covering topics including transport and flood risk. The findings of this work (and all other workstreams) were synthesised into a set of 'Development Assumptions' to begin defining what the emerging aspirations for regeneration are.
Work to help us define the socio-economic baseline of the area, including the nature of the existing businesses base, and the wider social context of the community, covering topics such as health, poverty and education and skills. This is the first step in the production of a Frome Gateway Employment Land & Skills Strategy which will be produced in stage 3 of the project.
Regeneration Framework Stage 2: Developing an overall concept and vision for Frome Gateway - June 2022 — Oct 2022
We're currently in stage 2 and are focussed on producing an overall concept and vision for Frome Gateway, based on what we've learned so far. A key part of this work is exploring the spatial arrangement of different uses such as residential uses, employment spaces, the movement network, and community facilities. Once developed we'll be testing this against the Community Place Principles and preparing this so that we can do further community and stakeholder engagement to refine and shape this in stage 3.
Next steps
Regeneration Framework Stage 4: Public consultation on the draft regeneration framework (October-November 2023)
Regeneration Framework Stage 5: Final changes to the Framework following consultation (December 2023 – January 2024) and Cabinet endorsement (February 2024)
Regeneration Framework Stage 6: Framework is taken to BCC Cabinet for formal adoption (February 2024)
Looking beyond the production of the Regeneration Framework: Timelines for delivery and implementation
It's difficult to give accurate or specific timeframes for physical construction work at this early stage of the project. Once the framework has been endorsed by BCC Cabinet in mid 2023, it will be used by individual landowners and developers to prepare plans and proposals for their individual sites (should they want to). It is often a lengthy process, sometimes years, to appoint design teams, produce development and design proposals, secure planning permission and prepare to re-develop a site. Timeframes for delivery of individual sites is therefore dependent on how eager and able individual landowners are to progress proposals for their site. The size, scale and complexity of their site also influences how long this process takes. Very generally, we expect the bulk of the regeneration ambitions for Frome Gateway to be delivered over a 10-15 year period.


Privately owned land
If you are a current business occupier within the Frome Gateway area, and you are concerned about timeframes for redevelopment, it is advised that you speak with your landowner about the Frome Gateway Regeneration Framework to ask them whether they are preparing development plans for their site, and if so, what timescales they are moving on, so that you can plan ahead.


Council owned land
Bristol City Council has some landholdings in the Frome Gateway area. Once the framework has been endorsed by BCC Cabinet, we will begin considering what the future for these landholdings looks like and how we might best use them to meet the Frome Gateway regeneration objectives.
We appreciate the Regeneration Framework will be a cause of uncertainty and anxiety for businesses. Where businesses are located on council owned land, we will aim to have open and honest conversations with businesses about our plans for our sites, and the timeframes we expect these to move on, at the earliest opportunity. We encourage all landowners to do the same with all businesses occupying their sites.
BCC doesn't anticipate progressing any detailed proposals for BCC owned sites until late 2023 at the earliest (as any proposals will be guided by the Regeneration Framework).
If you are a business in the Frome Gateway area and you are concerned about what impact the regeneration project may have on your business, you are encouraged to contact the council's Economic Development team, who may be able to help and advise you.
BCC Economic Development:
We've been trying to contact businesses across the site so that we can get to know your business better and understand your business needs and aspirations as we shape future plans for Frome Gateway. If you're a business in the Frome Gateway area and you haven't spoke to our Economic Development team yet please get in touch or use the contact details above.